LCCI Designation
The LCCI designation is open to any CCI member who provides goods and/or services, through annual employment time and volunteer time, to or within the condominium/strata/co-propiete industry. The designation is open to any particular profession or trade.
LCCI Application Process
Step 1 – Apply:
Gather the information for the registration form (eligibility criteria):



A.

An individual or professional member of CCI in good standing;



B.

Minimum of three (3) years as an individual or professional member of CCI immediately prior to the date of application;



C.

Minimum of three (3) years' service to the condominium industry immediately prior to the date of application. This criterion will be satisfied where an individual shows that they have provided goods and/or services, through annual employment time and volunteer time to or within the condominium industry;



D.

Provide at least two (2) letters of reference/endorsement from a CCI member having at least five (5) years of membership in CCI; and



E.

Provide an executed declaration that the candidate will comply with the

CCI Code of Ethics

.



F.

Details of participation in CCI at either the Chapter or National level (including roles on committees and conference/seminar attendance) in the three (3) years immediately preceding the date of new designation application.

Note that a candidate must demonstrate compliance with Mandatory Criteria (A) to (F) above and any one (1) of two (2) remaining Additional Criteria (G) or (H):



Additional Criteria:


G. Proof of public speaking or presentation experience at two (2) events on condominium related or CCI topics in the three (3) years immediately preceding the date of the new designation application;

H. At least two (2) written articles on condominium related topics as published in a newsletter, paper or other publication in the three years immediately preceding the date of new designation application;

Submit your application on-line with payment of the non-refundable $150 + HST fee
Your Chapter will review the application and make recommendations to National,
The National Executive will review the Chapter recommendation and either approve or follow up to advise why it was not approved
Step 2 – Upon Approval of Your Application:
If National has approved your application, you will be notified, and will be able to begin using your new designation once CCI National has formally notified you of your success.
Maintaining the Designation
Successful new designation members will be required to submit an Annual Report of their activities throughout the preceding year. The details of these reports should be similar to the designation criteria. These reports could be uploaded and saved in the National Database under each member's name. There could be a random annual audit of some Reports to ensure compliance.
Failure to maintain current applicable membership in CCI and/or failure to provide annual reports supporting maintenance requirements will result in the loss of the LCCI designation. Per section 7 of the CCI-N Bylaws, should your membership be revoked, you will no longer meet the criteria to maintain your LCCI designation.
News & Updates :
The AGM was held Nov. 27,2021
We just concluded our CCI-SSK AGM and we have two new Board members: Danielle Frank and Gavin Little. Congratulations to both and a warm welcome! Dawna Matthews was elected for another term. We will post the positions and committees once we have a Board meeting, soon.
We just finished our second joint education Webinar presentation,The SUD, with CCI North Saskatchewanon April 22,2021. It appears that this venture is being well received by attendees from both Chapters. As can be expected, we've had a few growing pains, but we're getting better all the time. There was so much engagement, great information shared and many questions answered. Stay tuned for more coming soon.
Coming soon as well, is Renewal time for membership. Renewals will be going out in a few weeks and we also wish to suggest condo Corporations that are not currently members to consider joining us. CCI-SSK is here to provide the support and guidance needed to navigate the complex operation and administration of condominiums. We hope to welcome old friends and meet new ones!
Important Amendment to the Condo Regulations
Effective at signing May 13,2020.
Publications Saskatchewan.ca
This is the link: Condominium corporations: https://publications.saskatchewan.ca/#/products/105440
Title: The Condominium Property Amendment Regulations, 2020
Minister: Minister of Justice and Attorney General
Summary: On filing date, these regulations will amend RRS C-26.1 Reg 2 to expressly authorize non-profit corporations, condominium corporations, co-operatives and new general co-operatives to hold annual general meetings by telephone, video conference or other electronic means.
See: The Condominium Property Act, 1993, section 112
Date Signed: May 13, 2020
---
Hello everyone,
It was good to have so many attendees at the webinar. We note some people were not able to register and received an "at capacity" notice. Below is the link to the webinar. The video is uploaded, we hope you find useful material to assist in this unusal time we are experiencing.
Condos and COVID-19 Webinar
Mar 26, 2020 02:30pm
---
Covid-19 Article
CCI-SSK encourages you to read the following article from Nancy Houle, an Ontario lawyer from Davidson Houle and fellow CCI member, regarding the effects the coronavirus can have on condominium communities and steps that can be taken to minimize its impact. Included are a couple of sample notices that boards can use to communicate with owners as well as some maintenance considerations. Some Saskatchewan edits.
Also, here are some important links:
We also have had to postpone education events we had in the works for April. We will advise as new information is made available.
Please contact us with any Sask. Condo concerns, and we will attempt to address them.
---
Coronavirus (COVID-19) and Condos
Concerns about coronavirus (also known as "COVID-19") are, of course, in the forefronts of all of our minds. As the number of cases of coronavirus increase across the country, we are receiving questions from our clients about what this means for the condominium industry. Questions include:
Does the Corporation have a duty to ban gatherings in party rooms?
Should we proceed with our Annual General Meeting?
Do we have an obligation to provide hand sanitizers in the common areas?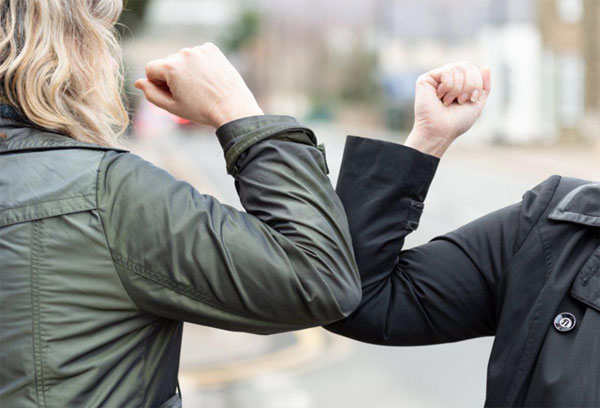 For many residential condominium owners, their condominium unit is both their primary investment and more importantly, their home. So, these concerns are being expressed not only in relation to the functioning of the condominium community, but also to the potential impact on the personal comfort and safety of owners in their homes. Many condominiums are close communities, with frequent contacts between members of the community. Also, condominium communities hold meetings (and in fact are legally required to meet!). The point is that the potential sharing of infectious agents is a key concern for all condominium communities and their Directors and Managers. They have a key role to play in this (now recognized) pandemic.
As a result, we need to turn our minds to certain key issues which will impact the day to day lives of those living in, and servicing, the condominium community.
Meetings: Formal and Informal Gatherings
We are now seeing gatherings, meetings and sporting events being cancelled to limit the spread of infection. As a result, some of our clients are struggling with whether to permit or postpone various types of gatherings onsite, such as aquafit classes, private parties or formal or social meetings of owners.
Furthermore, with AGM season upon us, questions are also arising as to whether it makes sense to postpone annual general meetings, or to consider alternative methods of conducting meetings of owners.
The Public Health Agency of Canada recently issued a guideline for risk-informed decision-making in relation to mass gatherings during the Covid-19 outbreak (read it here). While all of the criteria set out in the guideline may not be relevant to condominium corporations, the document does contain very useful information on what factors a community should consider in relation to the cancellation or postponement of a gathering. Each condominium community will need to consider whether there are risk factors which would lend themselves to a cancellation or a postponement of an AGM, such as:
The presence of confirmed or presumptive cases of coronavirus in the community;
The ability to arrange for social distancing in the venue of choice;
The expected volume of attendees at the AGM;
etc.
In the greater likelihood that the AGM proceeds, the document also includes risk mitigation strategies, including:
Providing handwashing or sanitizing stations;
Ensuring a venue that allows for social distancing;
Allowing for virtual or live-stream attendance (in the case of condominiums, this includes participation by proxy);
Avoiding serving refreshments via buffet;
Staggering arrivals (i.e. at registration or voting areas), etc.
While Section 40 of the Condominium Act, 1993 requires that an AGM be held once a year and within 15 months of the last one, circumstances may arise – particularly in these challenging times – which make this impractical, unadvisable or even impossible. In such a case, we encourage Boards and management to consult with legal counsel on next steps.
Messaging: Communications to Owners
In times such as these, effective and timely communication within the community can help to provide comfort to owners that the Board of Directors (and Management) are giving these matters proper attention. Boards can consider sending an initial notice to residents along the following lines:
Your Board of Directors (and Management) is making every effort to stay apprised of the ongoing evolution of the coronavirus situation in our local and/or larger community, and its potential impact on our condominium corporation.
We are keeping apprised of any cases, or possible cases, of coronavirus in the larger community, and will do the same should any cases or possible cases develop in our condominium community. We will make every effort to keep owners apprised of all developments, of which we become aware, which may impact our community.
We will also be taking all reasonable precautions in relation to maintenance, cleaning and sanitization of the common elements to reduce the risk of infection on the premises.
In the meantime, we encourage all residents to stay apprised of general information about coronavirus, including symptoms, treatment, reporting, and general health and well-being, to refer to updated federal, provincial or municipal public health agency advisories, and to follow all recommended protocols as established by the various agencies.
We repeat the concerns and recommendations that have been expressed by so many other organizations:
Be sure to frequently and thoroughly wash your hands.
Where possible, try to avoid large gatherings of people.
Avoid handshakes. Elbow and forearm "bumps", when desired, are a better idea.
If you aren't feeling well, by all means stay home. And, when it comes tomeetings, send a proxy in your stead (when you are feeling at all unwell).
The Board will also be considering what all of this means for upcoming meetings of the owners, and will send out a notice about those issues in advance of any potential meetings.
As events in the community unfold, and particularly as meetings of owners arise, ongoing situation specific messaging will assist in providing owners and residents with some comfort that the condominium corporation is actively engaged in taking all reasonable steps to deal with this evolving situation. [Click here for a sample notice to include with meeting packages on protocols for meetings.]
Maintenance
While the condominium corporation cannot, of course, guarantee the prevention of the spread of infection, the corporation can take certain steps to mitigate the potential for the spread of infection on the common element areas. Such steps may include:
Increasing the availability of hand sanitizers or soap in common elements (bathrooms, gym, etc), where possible;
Increased, and/or additional, cleaning and disinfecting of areas, etc;
Installation of signage on the common element areas with reminders to owners of the steps which owners can take to assist in mitigating the spread of infection (i.e. the reminders set out above).
By working with owners and residents, condominium corporations can play a helpful role in trying to limit the negative effects of this virus in their communities.
Additional Note on Employment Issues
Like any other employer, condominium corporations must consider their employment obligations, including occupational health and safety obligations, towards workers onsite. Given the intricacies of the employer/employment relationship, each situation must be considered on a case-by-case basis, should the need arise.